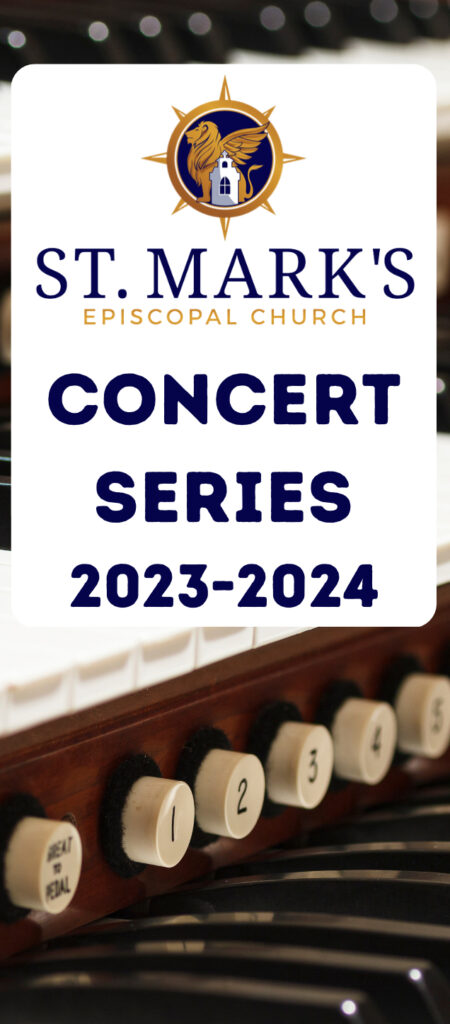 Friends of Music Concert Series
This is the 22nd season for our Concert Series program at St. Mark's. In the past we have enjoyed performances by many renowned groups such as Siren Song, Acoustic Eidelon, Live Hymnal, The Stephen Lynerd Group, Washington Saxophone Quartet, The Choir of St. Mark's, and many other local artists. These concerts not only provide our congregation opportunities to enjoy fine music, but also an opportunity for others in the community to visit and appreciate the wonderful place that is St. Mark's Church. We encourage you to invite friends, family, and colleagues who may not be members of St. Mark's to attend concerts that they might enjoy as your guests.
Your gifts are essential to help continue this high quality of musical programming. In order to ensure that we can continue to provide the excellent performances that we have enjoyed over the years, we invite you to participate in our Friends of Music. Our concerts are free of charge and open to all. With your support, we will be able to continue this wonderful outreach through music in our community.
Participation can be at any level:
Diamond Benefactor ($2500+)
Benefactor ($1000-$2499)
Patron ($500-$999)
Sponsor ($250-$499)
Donor ($100-$249)
Friend ($50-$99)
Contact Peter A. Madpak, Organist-Choirmaster
peter@stmarksvenice.org
All participants will be acknowledged in the concert programs.