Our Director
BA in Psychology from Sweet Briar College, with an Early Education minor.
MA in Christian Formation from the Virginia Theological Seminary
State of Florida Director's Credential.
Sally began her role as the Director of St. Mark's Preschool in December of 2021.
Before moving to Florida for St. Mark's Preschool, she served as Associate for Christian Formation and Parish Life at Christ Church in Exeter, New Hampshire. Before that Sally served as Director of St. Mark's Preschool in New Canaan, Connecticut where she helped transform the school to be an integral part of the church and community, all while infusing Christian values and Episcopal identity into the curriculum.
As an Early Childhood educator since graduating from college, being the Director of St. Mark's is truly what Sally feels God has called her to do. The position is exciting for her as it combines her love of young children and the commitment to teach the covenants of the Episcopal Church, while working alongside an amazing and committed group of teachers.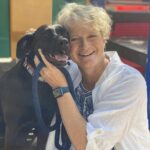 Sally and her husband have three grown children that live in CO, MT and MA. She is happy to have the warm house that family comes to visit!